Recipes
Spicy Chicken Taco Taquitos
Spicy Chicken Taco Taquitos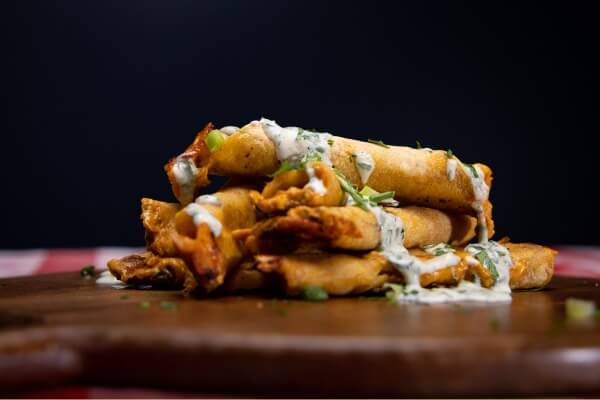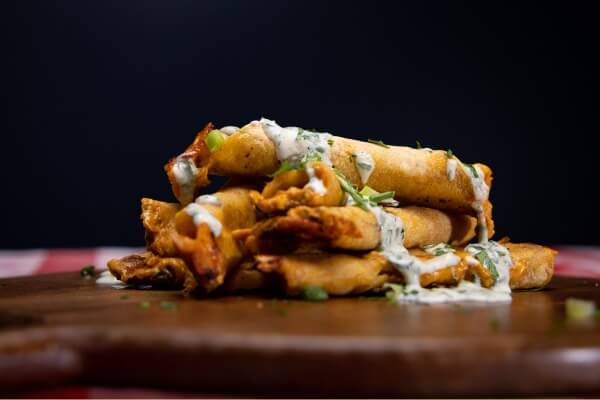 Ingredients
2 containers Knott's Spicy Chicken Taco Dip
1 cup shredded cheddar cheese
2 TBSP Fresh Cilantro
¼ cup Green Onions
18 Corn Tortillas
For Cilantro Ranch Dipping Sauce:
½ cup plain Greek yogurt or sour cream
½ cup buttermilk
¼ cup fresh parsley, chopped
¼ cup fresh cilantro, chopped
2 tablespoons fresh dill, chopped
1 teaspoon garlic powder
1 teaspoon onion powder
1 teaspoon kosher salt
Instructions
Preheat oven to 425 degrees.
Warm the tortillas for 30 seconds to 1 minute in the microwave until pliable. On a baking sheet rub the tortillas with olive oil.
Mix together the Knott's Spicy Chicken Taco Dip, cilantro, green onions and the cheddar cheese.
Spoon 2 tablespoons of Knott's Spicy Chicken Taco Dip mixture down the center of each tortilla. Roll up and place seam side down on baking sheet.
Bake for 5-8 minutes, flip and cook for another 5 minutes or until the cheese has melted and the tortillas are crisp.
Meanwhile, make the ranch. Combine all ingredients in a bowl (or use a blender) and mix until creamy. Season with salt.
Serve the taquitos topped with ranch, green onions and any other desired toppings.