Recipes
Spicy Chicken Taco Quesadilla
Spicy Chicken Taco Quesadilla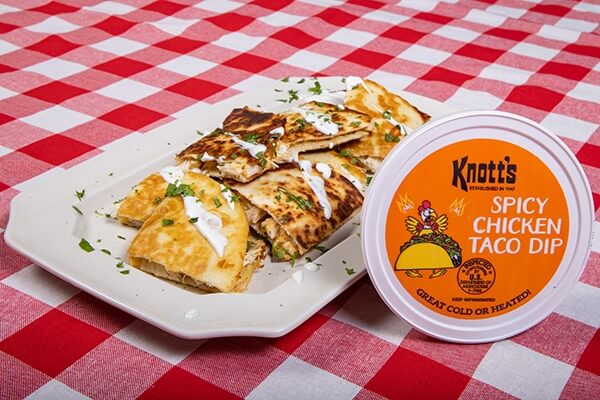 Knott's Spicy Chicken Taco Quesadillas are certifiably delicious and perfect for your next fiesta!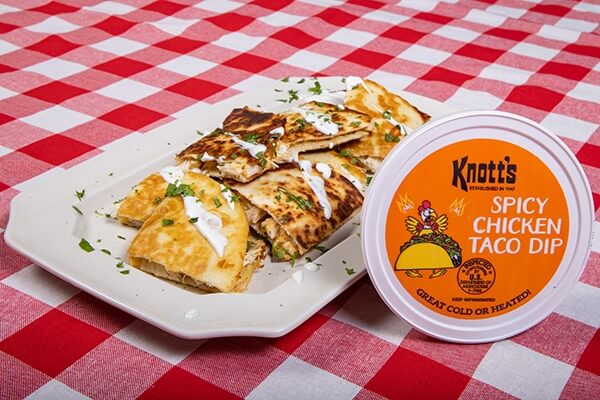 Ingredients
Knott's Spicy Chicken Taco Dip
chicken breast
tortillas
green bell peppers
red onion
sour cream
lime
cilantro
shredded mexican style cheese
vegetable oil
Instructions
Boil a pot of water.
Once boiling, add chicken and boil for 10 minutes. Make sure the internal temperature is 165°F before proceeding. If needed, boil for an additional five minutes or until it reaches 165°F.
While chicken is boiling, cut onion and pepper and saute with vegetable oil.
Once chicken is done, let cool for 10 minutes. Use two forks to shred chicken.
Warm tortilla in microwave for 20 seconds for easy handling.
Place desired amount of chicken, peppers and onions on top of shell. Sprinkle shredded cheese on top.
Spread Knott's Spicy Chicken Taco Dip on one side of a second tortilla. Place the tortillas together.
Griddle/fry on a medium/high heat for 3 minutes, and then flip.
Once both tortilla shells are slightly browned and cheese has melted, the quesadilla is done.
Cut into triangle slices.
Top with lime, sour cream and/or cilantro.