Recipes
Smoked Gouda and Apricot Scones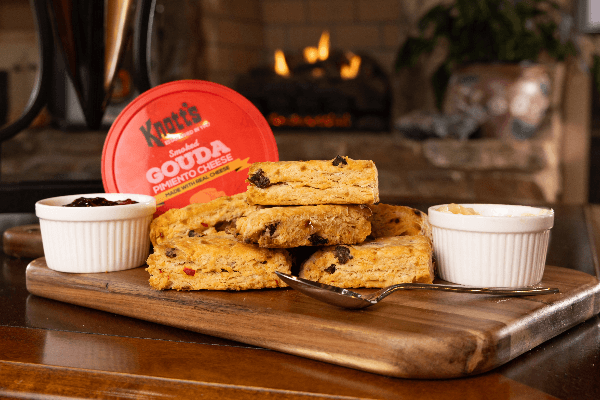 Soft and delicious these scones will leave you reaching for another one.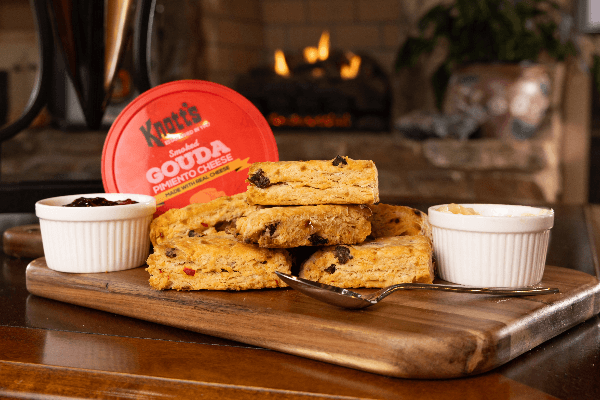 Ingredients
3 ⅓ cups All-Purpose Flour
½ cup granulated sugar
2 ½ teaspoons baking powder
½ teaspoon of salt
8 oz Knott's Smoked Gouda Pimiento Cheese
8 tablespoons unsalted butter, frozen
1 cup dried apricots, diced
1 large egg
Zest of half an orange
¼ cup milk, plus 1-2 tablespoons more if needed
Instructions
Preheat the oven to 400 F. Line a baking sheet with parchment paper.
Grate the frozen butter into a bowl and stick back in the freezer until ready to use.
Whisk together the flour, sugar, baking powder and salt.
Cut in the cheese and butter using a pastry blender, fork, mixer or your fingers.
Stir in the apricots.
In a separate bowl, whisk together the egg, zest and milk.
Add wet ingredients to the dry ingredients and stir gently with your hands or a fork until the dough is evenly moistened.
Turn dough onto a floured piece of parchment or waxed paper and fold it over several times until it holds together. Pat the dough into a ¾" square.
Cut the dough into squares.
Brush the tops lightly with milk. Place them 2" apart on the prepared baking sheet.
Bake for 18 minutes or until the tops are light golden brown.
Serve with honey butter or raspberry jam.