Recipes
Shrimp and Pimiento Cheese Grits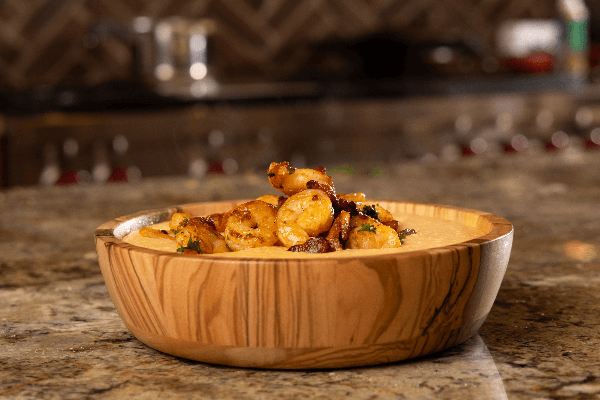 A cheesy twist on a #PureSouth classic!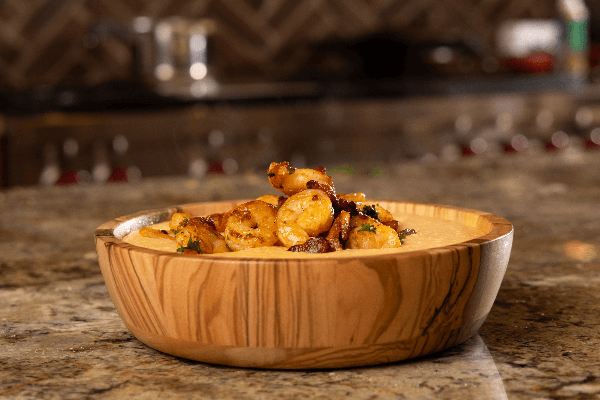 Ingredients
1 cup medium grind grits (not instant)
1 cup of Knott's Classic Pimiento Cheese
Sriracha
1 Tablespoon Olive Oil
4 oz thick cut bacon cut into ¼ inch strips
1/2 pound large shrimp, peeled, deveined and divided
⅓ cup parsley leaves, chopped
2 teaspoons of fresh lime juice
Salt and pepper
Instructions
Bring 2 tsp of salt, pepper and 4 ¾ cups of water to a boil in a medium saucepan. Whisk in the grits.
Reduce the heat to medium-low, cover and cook, whisking occasionally, until grits are thick, tender and creamy. About 10-12 minutes.
Increase the heat to medium and stir in the cheese and sriracha to taste. Cook, stirring until the cheese is melted and the mixture is smooth (about 2 minutes).
Season with salt and pepper, cover and remove from heat.
Meanwhile, heat oil in a medium skillet over medium-high heat. Cook bacon, until crispy and golden brown. Set aside.
Increase heat to high and cook half of the shrimp in the same skillet until lightly browned.
Transfer to a medium bowl, repeat with remaining shrimp.
In the medium bowl add parsley and lime juice, bacon and sriracha to taste. Toss to combine. Season with salt and pepper.
Divide grits among bowls and top with shrimp mixture.
Serve hot.