Recipes
Knott's Pimiento Cheese Huevos Rancheros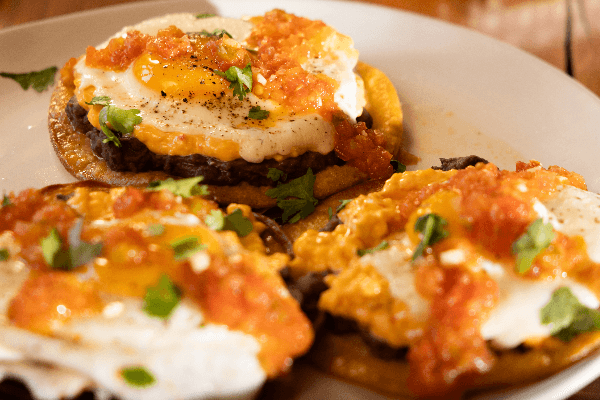 Note: Salsa can be made a day ahead and warmed before assembly.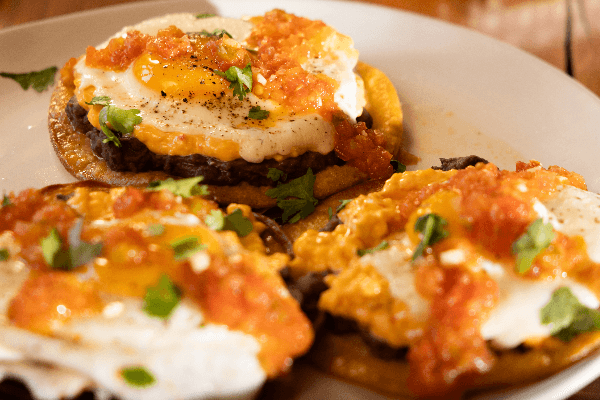 Ingredients
4 roma tomatoes
½ medium white onion
1 jalapeño pepper
1 clove garlic
¼ cup water
2 teaspoons of kosher salt
1 teaspoon black pepper
3 tablespoons of vegetable oil
4 (6 inch) corn tortillas
4 large eggs
1 cup refried black beans
Fresh cilantro
12 oz Knott Yo Grandma's Jalapeño Pimiento Cheese
Instructions
For Salsa: Coarsely chop tomatoes, onion and jalapeno pepper (remove the seeds and membrane).
Add 1 garlic clove, ¼ cup water, salt and pepper.
Pulse in a food processor or blender until chunky and coarsely chopped, adding more water if needed to thin
Taste and season with more salt as needed.
For heated salsa: Heat 3 Tablespoons of oil in a small saucepan over medium-high heat until simmering. Add the salsa and fry, stirring occasionally for about 3 minutes. Reduce heat and simmer, stirring occasionally, until the sauce darkens, about 5 minutes. Reduce the heat to low and keep warm until ready to assemble.
For Huevos Rancheros: Heat ¼ cup of vegetable oil in a large nonstick skillet over medium-high heat until shimmering.
Lightly fry 2 corn tortillas until lightly brown and crisp but still pliable (1 minute per side).
Transfer to a paper towel lined plate and repeat with the remaining tortillas.
Reduce the heat to medium. Carefully crack 4 large eggs into the pan and season with salt.
Fry until desired doneness, 2-4 minutes for runny yolks. Meanwhile warm the beans.
Warm the refried beans in 20-second intervals on high power in the microwave. Stirring after each, until warmed through. About 1 minute total. Or warm on the stove top over low heat.
Spread the warm refried beans onto the tostadas. Add pimiento cheese. Top with fried egg. Spoon over salsa and garnish with cilantro if desired.
Eat while warm.