Recipes
Knott's Cobb Salad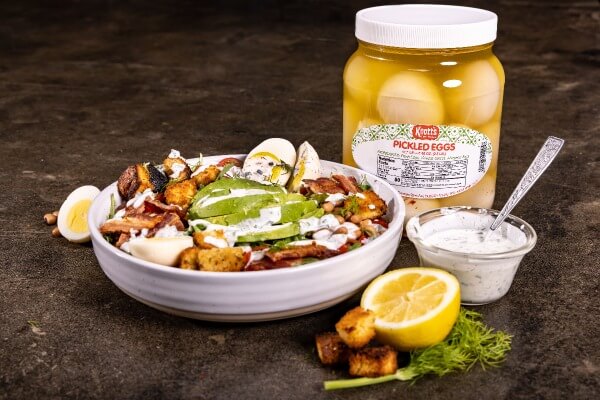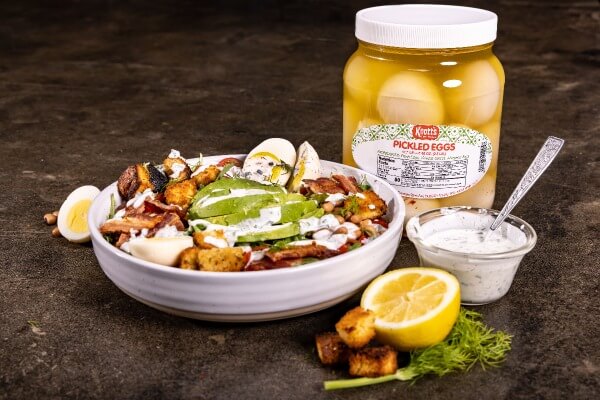 Ingredients
6 cups chopped romaine lettuce
8 Cherry tomatoes, cut in half
Knott's Pickled Peeps - 4 eggs, sliced
1 medium avocado
4 oz Bacon, pre-cooked
½ cup black eyed peas
For Cornbread Croutons:
1 batch of day old cornbread
3 Tbl. Olive Oil
Salt/pepper to taste
For Homemade Ranch:
½ cup sour cream
½ cup buttermilk
¼ cup mayonnaise
2 Tbsp Garlic powder
1 tsp salt
¼ tsp black pepper
1-1 ½ tsp dried dill
⅓ cup fresh finely chopped chives
2 tsp lemon juice
Dash of hot sauce
Instructions
Preheat oven to 400 degrees.
Cut cornbread into cubes, your preference on size. Place cubes on a rimmed baking sheet.
Sprinkle with salt and pepper to taste and drizzle with olive oil. Toss lightly to coat.
Toast in oven until edges are a deep brown, about 10-15 minutes; flipping once during baking. Remove from oven.
Combine all dressing ingredients in a bowl and mix well. Chill until ready to serve. *note: dressing will thicken the longer it is refrigerated. Thin with a couple teaspoons of water to drizzle if needed/wanted.
In a medium bowl, toss the lettuce with 1/2 the dressing. Layer onto platter.
Top with croutons, eggs, cheese, avocado, bacon and peas.
Drizzle with remaining dressing.