Recipes
Knott Yo Grandma's Deviled Eggs
Knott Yo Grandma's Deviled Eggs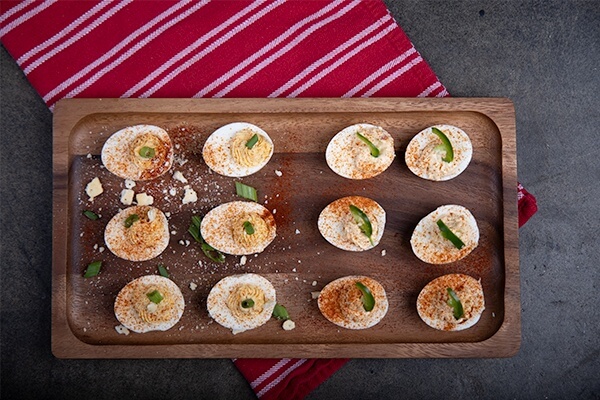 Kick up a classic and create a new family favorite! This deviled egg recipe features Knott Yo Grandma's Pimiento Cheese.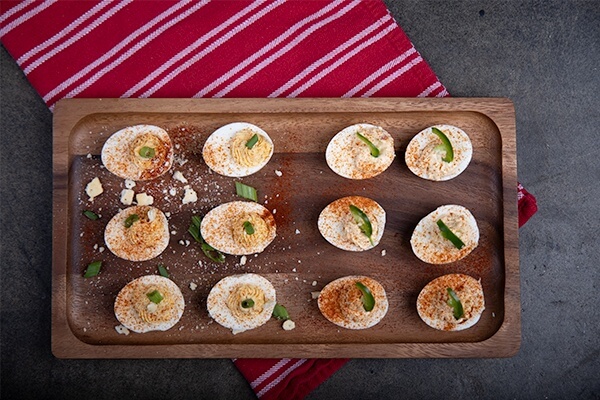 Ingredients
6 Tbl. Knott Yo Grandma's Pimiento Cheese or Knott Yo Grandma's Jalapeno Pimiento Cheese
6 hard boiled eggs
¼ cup mayonnaise
Salt and pepper to taste
Paprika
Thinly slice green onions
Butter crackers
Instructions
Peel the hard boiled eggs. Slice in half and remove yolks (to a bowl).
Mash the yolks and stir in Knott Yo Grandma's Pimiento Cheese, mayonnaise, salt and pepper. (You can also add all these ingredients to a food processor and process to smooth.)
Transfer mixture to a piping bag (or plastic food storage bag with a cut corner) and pipe into egg whites.
Garnish with green onions, crushed butter crackers and a dusting of paprika.