Recipes
Jalapeño Popper Sausage Wheel
Jalapeño Popper Sausage Wheel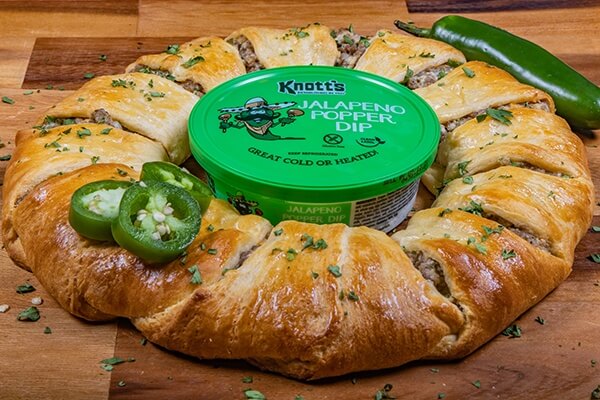 Start your meal with the savory flavor of Knott's Jalapeño Popper Sausage Wheel! This appetizer is guaranteed to be a fan favorite that will have everyone coming back for seconds!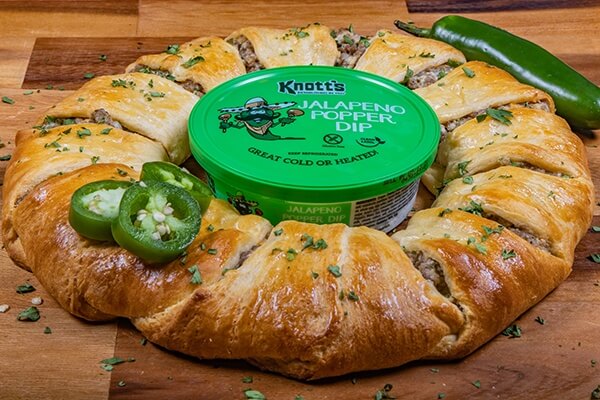 Ingredients
Knott's Jalapeño Popper Dip
1 lb. breakfast sausage
2 8 oz cans refrigerated crescent rolls
1 egg
Instructions
Preheat the oven to 375°F.
Brown and crumble sausage in a large skillet over medium heat. Drain on paper towels. Allow to cool.
Combine sausage and Knott's Jalapeno Popper Dip.
Open cans of crescent dough and separate into 16 triangles. Arrange overlapping triangles with the long ends to the center and the tips pointed out. The ring should look like the sun. (You can use a 5-inch bowl as a guide.)
Spoon sausage/cheese mixture around the center of the ring on the dough. Bring each dough triangle up over the filling, tucking dough under the bottom layer of dough to secure it. Repeat around the ring until all the filling is enclosed.
Create the egg wash by whisking together the egg and 1 tablespoon of water. Brush over the top.
Bake at 375°F for 20-25 minutes or until golden brown. Remove and cool for 5 minutes before serving.