Recipes
Jalapeno Popper Pigs in a Blanket
Jalapeno Popper Pigs in a Blanket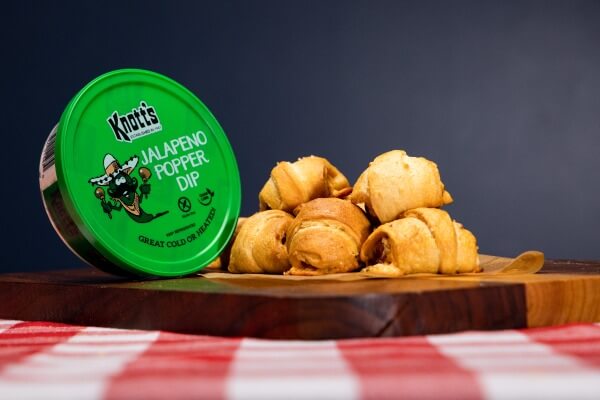 Put a savory twist on these family favorites and score big at your next tailgating experience!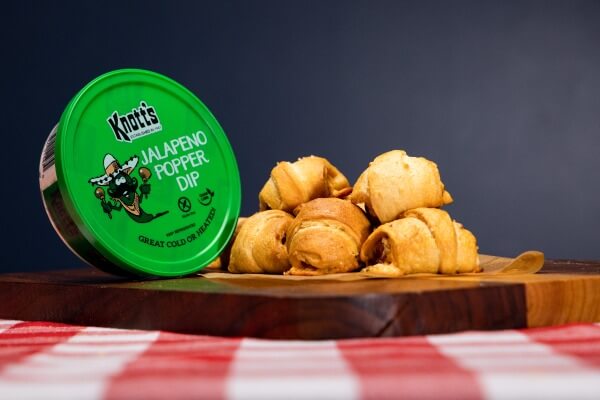 Ingredients
36 Little Smokies
2 Sheets Puff pastry
8 oz. Knott's Jalapeno Popper Dip
½ Cup Shredded Sharp Cheddar Cheese
5 Bacon slices
Garlic salt
Black pepper (To taste)
1 Egg
Instructions
Preheat the oven to 350 degrees and line a baking sheet with parchment paper or aluminum foil.
Cut your crescent roll dough in half, creating 16 strips of dough and set aside.
In bowl, add the Knott's Jalapeño Popper Dip, shredded cheddar cheese, crumbled bacon, and seasonings.
Cut each puff pastry into 6 equal strips, and then into 3 pieces, to make a total of 36 strips.
Spread a spoonful of the Jalapeño popper mixture on each piece of puff pastry.
Place a cocktail wiener on each piece and roll the puff pastry around it.
Brush edges with egg wash and seal well.
Place seam side down on parchment paper-lined baking sheet.
Brush tops of the puff pastry with egg wash.
Bake for 10-15minutes, or until golden. Let cool for 5 minutes before serving.