Recipes
Jalapeno Pimiento Cheese Waffles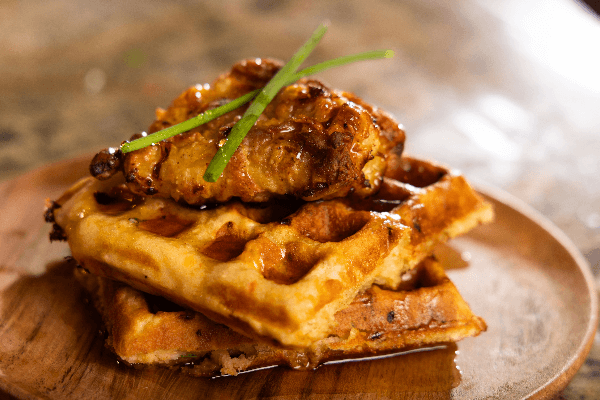 Savory and delicious, these waffles are a MUST on the brunch table.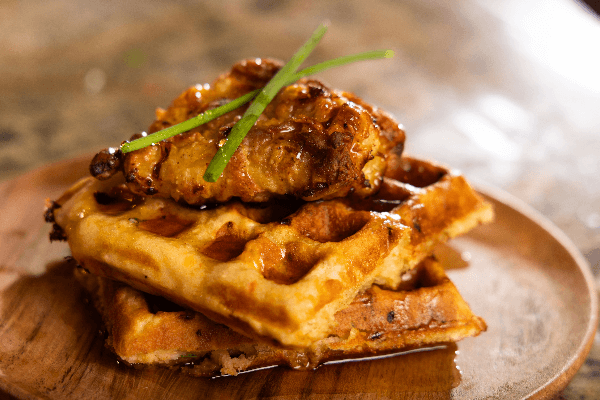 Ingredients
3 ½ cups flour
3 tablespoons cornmeal
2 tablespoons sugar
1 teaspoon baking soda
1 teaspoon coarse salt
3 cups buttermilk
3 eggs lightly beaten
⅔ cup canola oil
¼ cup chopped fresh chives
1 cup Knott's Jalapeño Pimiento Cheese
Instructions
Whisk flour, cornmeal, sugar, baking soda and salt in a large mixing bowl.
Add buttermilk, eggs and oil, whisking until just combined.
Stir in the chives and cheese, then set aside to rest for five minutes.
Preheat waffle iron to the desired setting.
Pour batter (amount depends on size of waffle maker) onto the hot waffle iron, spread out evenly.
Close the waffle iron and cook until the waffle is done. Remove and transfer to a plate or a sheet pan in a warm oven (200 degrees) to keep warm.
Top with butter and maple syrup. Or add fried chicken for a Knott's take on Chicken and Waffles!