Recipes
Fried Pickled Bologna Sliders
Fried Pickled Bologna Sliders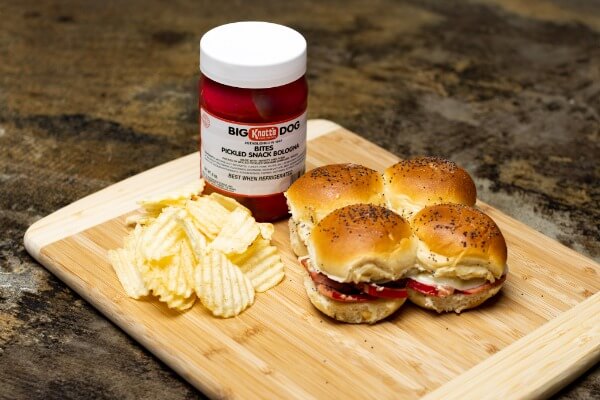 Fried and pickled — it doesn't get much better than that, and these sliders have both!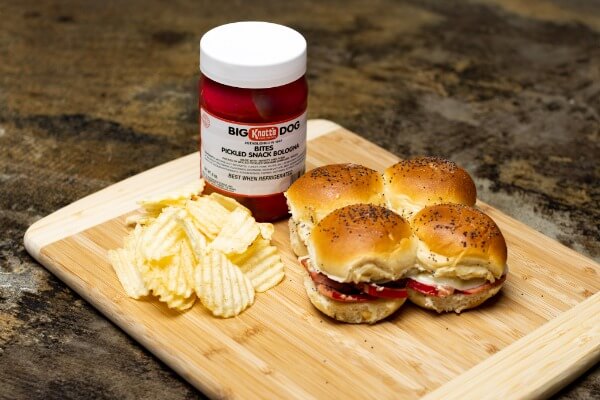 Ingredients
1 Package of Hawaiian rolls (or rolls of choice; 12 count)
Knott's Pickled Bologna, sliced
Sliced Provolone Cheese
2 Tablespoons Butter
1 Teaspoon Poppy Seeds
½ Cup Mayonnaise
4 Tablespoons Whole Grain Mustard
1 Teaspoon Garlic Salt
Instructions
Preheat oven to 350 degrees.
Mix together the mayonnaise, whole grain mustard and garlic salt together in a bowl.
Fry the bologna in a large nonstick skillet until browned. Remove from pan to a plate.
Melt butter in a small bowl. Add poppy seeds and stir.
Slice the sheet of buns in half.
Put the bottom halves of buns in a baking pan. Layer with cheese and bologna. Spread mayo mixture onto bun tops and place on top of the sandwiches. Brush with melted butter/poppy seed mixture.
Bake for 10-12 minutes or until cheese is melted and buns are golden brown.